Old School Barbers Specializing in Classic Cuts and Straight Razor Hot Towel Shaves. See some of our work on Facebook.com/butchersbarbershop or instagram.com/butchers_barbershop. Come checkout out our shop even if you aren't in need of haircut at this time and see what we are all about! There is always coffee on and a cold drink in the fridge! Also, come check out some product lines including Reuzel, Proraso, Uppercut, Phoenix Shaving and Black Rifle Coffee! Stop in or message us for many new additions as we are always adding new lines! You can always call and find out availability or waits 603-942-6019. We do keep our online booking up to date. Saturday Mornings from 9-12 is walk ins only.
Adam
Barber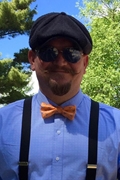 Adam is an Old School Barber Specializing in the Classics. Interested in learning more about Shaving being a relaxing task opposed to a chore you dread, Adam offers individual and group classes on how to make shaving more enjoyable and comfortable! Adam has a true gift and passion for his craft!
Sue
Barber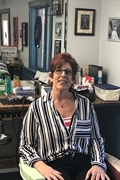 Sue is a Master Barber and Instructor who offers classic cuts and styles!
Nate Gooden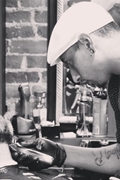 Nate's background has allowed him to work with many different hair types and styles and he is also an instructor.
Butchers Barbershop & Shave Parlor
321 1st NH Turnpike, Suite B, Northwood
603-942-6019
Tuesday

Wednesday

Thursday

Friday

Saturday

9:00am - 7:00pm

9:00am - 7:00pm

9:00am - 7:00pm

9:00am - 7:00pm

9:00am - 4:00pm